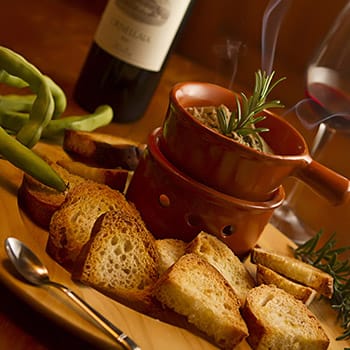 Our Cuisine
Cristiano Milighetti's cuisine wants to enhance the best of our territory: exquisite meat like Chianina and Cinta Senese, organic vegetables, truffle, saffron, excellent wines, cold cuts, cheese, by putting quality without compromise first.
And no worries for those having intolerances or allergies! Our staff can prepare gluten-free food upon request, as well as recipes without eggs, milk, dairy products, etc. to meet any requirements and needs.
Top-quality ingredients
Thanks to research, hard work, and passion we serve food that can be appreciated by the most traditionalists and by the most curious to explore new recipes as it is rustic and refined at the same time.
Knowing how to mix with art and fantasy top-quality fresh ingredients that are locally sourced allows us to create delicious dishes that are pleasing to sight and taste.
Countryside tradition
According to countryside tradition, we know that growing one's own vegetables, breeding farm animals, producing extra virgin olive oil and wine are the fundamentals of a natural and healthy cuisine. Traditional recipes are bread and vegetable soups, black cabbage and bean soups, meat sauces with toasted bread, pork liver roasted in a wood-fired oven and last but not least the renowned Florentine T-Bone Steak, which is underdone to bring out all its taste.
And then the Tuscan bread mentioned by Dante Alighieri, who said: "That made by others is salty"... People created this unsalted bread in order not to cover the Tuscan flavourful food, such as cold cuts, pecorino cheese, mushrooms, game and wild boar.
The last piece of the puzzle is love for wine. Our dishes are mainly paired with the great Chianti, Montalcino, Montepulciano and Cortona wines, which are sturdy, full-bodied and tight.
The Tuscan cuisine consists of all of this: a triumph of colours, scents, flavours and unforgettable tastes that will simply enrapture you.