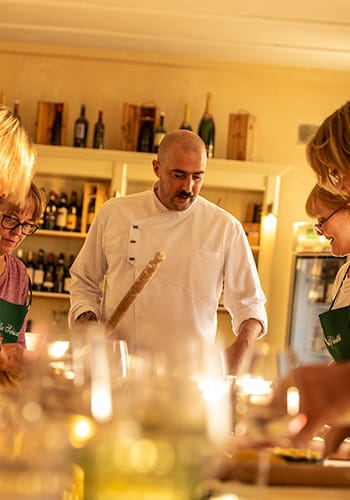 Cooking Classes
The cooking school in Cortona run by Chef at Home is thought to satisfy any participant, from beginners to master chefs.
The cooking lessons of typical Tuscan cuisine are divided into two parts. The first part is more theoretical: the chef will explain the idea of transforming quality ingredients into excellent and tasty dishes. The second part is more interactive: the participants will actively take part in the meal preparation, learning how to cook starters, hand-made pasta, meat sauces, second courses, side dishes, pizza, desserts…
The chef will buy all the necessary ingredients and the beverages to pair with food according to the menu chosen by the clients. A hands-on cooking class is from two to four hours long depending on the menu. At the end of the lesson the participants will have lunch or dinner with the recipes they have prepared all together. The chef and his staff will serve and clean up the kitchen and dining room at the en
Our Tuscan cooking classes can be held at restaurant "Osteria di Villa Schiatti" in Cortona or at home.
The minimum number of participants attending a cooking class is 2 persons.
There are many different menus available starting from 50 euros per person, but it is also possible to create tailor-made menus according to your taste and needs.